Posted on 20 Mar 2019
Pregnancy can be anything but kind to youthful, perky breasts. A once full and firm bustline can suddenly appear soft and deflated following multiple childbirths. Luckily, there are several options for women who find themselves in this situation. Breast surgery from Neaman Plastic Surgery can successfully restore breasts post-pregnancy to improve your appearance and help to give you back a little confidence.
Lift and Shape With a Breast Lift
One of the most popular surgeries performed following pregnancy is a breast lift. Sagging breasts are a common side effect of breastfeeding due to the breasts becoming engorged with milk and then eventually returning to their normal size. When the milk is gone, many women are left with inelastic skin that is unable to bounce back and give you back your perky breasts of the past. A breast lift can remove excess skin and position your breasts to a higher location on your chest wall. This can also help to firm up breasts and improve their overall appearance.
Add Volume By Adding Implants
A breast lift with breast implants is another great way to restore breasts after childbirth. While a breast lift can enhance your bustline, it can't actually increase the volume. By adding implants to your post-pregnancy breast lift, you are able to increase the size and possibly decrease the amount of skin that must be excised.
Gradually Lose The Baby Weight
Following pregnancy, most women can't wait to get their pre-baby body back, and we get it. However, it may behoove you to slowly and steadily lose the extra weight you gained while being pregnant. The reason for this is extreme weight fluctuations can affect the quality of your skin, including your breast skin. The elasticity of your skin can become compromised with weight loss which can result in sagging. If you gradually lose the baby weight, your skin has a better chance of recovering and repairing itself properly. This doesn't mean you won't still need to resort to surgical means to fully restore your breasts, but you will achieve better results from a breast lift or breast augmentation if you have good skin elasticity.
Contact Neaman Plastic Surgery To Schedule Your Breast Consultation
If you're looking to get your pre-baby breasts back, schedule a consultation with Salem plastic surgeons Dr. Keith Neaman and Dr. Dustin Christiansen and find out about your breast lift options. Together you can devise a plan to boost your confidence and breast appearance. Contact us at 844-338-5445.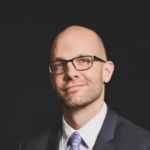 Dr. Neaman is a board-certified plastic surgeon that specializes in surgical body contouring. He prides himself on being on the cutting edge of plastic surgery. He takes an informative approach to each consultation, and through open dialogue and communication, he helps his patients decide on a treatment plan that meets their needs.