Write a Review
Simply follow the links below to share your experiences with Dr. Neaman, Dr. Christiansen and the entire staff at Neaman Plastic Surgery on Facebook, Google, Yelp, and Real Self. Of course, not everyone has an identical experience and we invite you to talk with Dr. Neaman, Dr. Christiansen and the #NeamTeam about your expectations as individual results may vary.* Contact Neaman Plastic Surgery at our office in Salem, Oregon for more information or to book a consultation.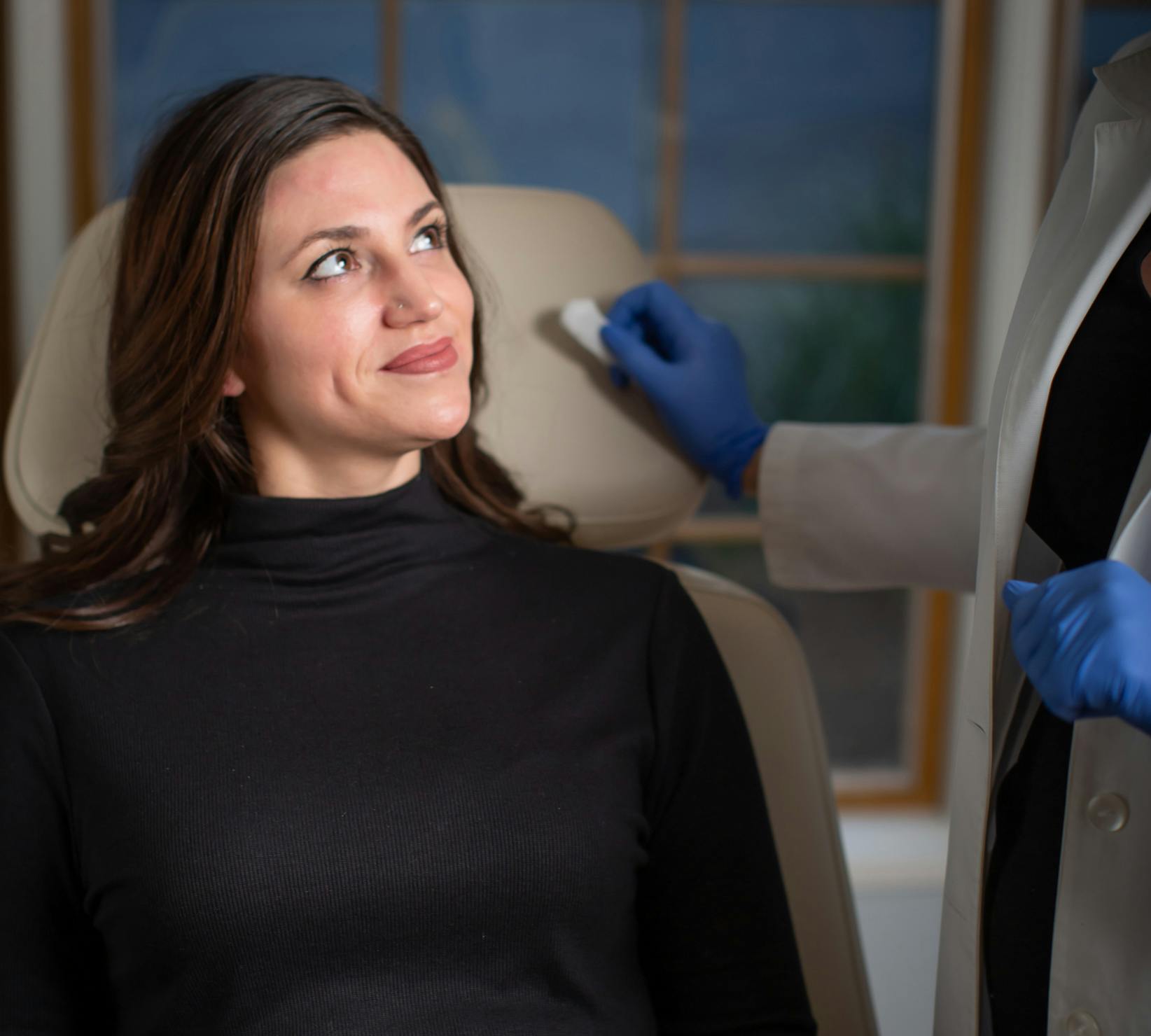 Testimonials
Check out reviews and testimonials from real patients of Neaman Plastic Surgery and Neaman Medi Spa.
"Dr. Neaman and his staff provided excellent care before, during and after my surgery with compassion, attentive care, and professionalism. I value Dr. Neaman's expertise, warm and friendly manner and his excellent surgical skills. I would highly recommend Dr. Neaman and I will continue to be their loyal client in the Medi Spa and for any future surgical care."
Patient Testimonial Videos
Please note individual results may vary and we invite you to discuss your goals and expectations with Dr. Neaman during your consultation.

Additional Patient Reviews
Please note individual results may vary and we invite you to discuss your goals and expectations with Dr. Neaman during your consultation.*
"Really happy with my procedure done by Dr. Christiansen. He talked me through it all and explained everything to my understanding. Did a wonderful job on my breasts and made them look amazing. Would highly recommend him and the office to anyone."
Idylancer03 – via Realself*
---
"I was blown away by the friendly staff! Everyone was super sweet and welcoming. The office is absolutely beautiful! I felt like my concerns and questions were answered professionally and honestly. Excited to go back in two weeks for my Infini treatment. Big shout out to Kelsea for working me and my crazy schedule to get me in."
Mickang77, Actual Patient*
---
"Dr. Neaman and his staff provided excellent care before, during and after my surgery with compassion, attentive care, and professionalism. I value Dr. Neaman's expertise, warm and friendly manner and his excellent surgical skills. I would highly recommend Dr. Neaman and I will continue to be their loyal client in the Medi Spa and for any future surgical care."
Hamiltonjul, Actual Patient*
---
"Extremely happy with my experience at Doctor Neaman's Medi Spa. I was met with a caring, friendly staff. I am 59 and showing signs of aging. First I had Filler and Botox done by Dr. Neaman great results. Next a laser treatment using radio waves. Very little recovery time. I love the results already. I still have 2 treatments to go. My friends have noticed and have complimented me on my skin. I have noticed my facial lines diminished. Can't wait to see the final results. Thanks so much I feel prettier already."
Debbie, Actual Patient*
---
"Congrats and the very best wishes to my favorite doctor! This guy is more than amazing…he has helped give my life back after breast cancer tried to steal it from me….nothing but the very best to him and his beautiful family! Take good care of those hands, they work miracles!!!!"
Gloria, Actual Patient*
---
"Dr. Neaman and his staff are amazing! Everyone is so caring, kind, and attentive to patient needs. This is a place where patients are treated like friends or family. No one forgets my name or why I am came in. Further, Dr. Neaman's work is great. I had breast reconstruction after cancer. I am super pleased with the results."
Anonymous, Actual Patient*
---
"Last month I had a close encounter with a table saw that severed two fingers on my left hand. Upon arriving at the ER, I was rushed into a triage room where the bleeding was controlled and X-rays taken. When the surgeon, Dr. Keith Neaman, arrived, he calmly explained what the procedure would involve and what the possible outcomes might be. The operation began at midnight and lasted until after 6 a.m.. I can't speak highly enough about the heroic efforts of Dr. Neaman and the hospital staff to save my fingers and keep me from bleeding out."
David, Actual Patient*
---
"I would recommend Dr. Neaman with absolutely no reservations. He was from the moment I met him -right before reconstructive surgery as a result of a melanoma – a very empathetic and kind individual. Dr. Neaman instilled confidence in my recovery and was a pleasure to have as a doctor."
Chane, Actual Patient*
---
"Great Dr. Very kind, patient and understanding about anxieties surrounding surgery. Amazing at what he does."
Jall823 – via Realself*
---
"Dr. Neaman is a joy to work with. He answers any questions I have and does a thorough job of explaining everything. I was very confident that I had all the information I needed for my procedure and recovery. I would and have recommended Dr. Neaman to family and friends. I couldn't be happier with my results and my experience."
Nicole2371, Actual Patient*
---
"I refer everyone to Dr. Neaman. Choosing a doctor that you are trusting to change something on your body is scary. After my consultation both my husband and I were confident we made the right decision. My surgery went well, recovery was easy and I couldn't be happier with the results. Dr. Neaman and his team are amazing, very professional, friendly and great at what they do."
Bschomus, Actual RealSelf Patient*
"Just have to RAVE over Spectra Peel! My first treatment I noticed overall brightness and smaller pores. I just finished my second treatment and was amazed by the immediate results! My skin is glowing, smooth, and appears lifted! It is such a noticeable difference! So happy with this office and staff that I also got laser hair reduction started today as well. I was pretty nervous and the technician, Tanah, was so caring! Thank you so much, Dr. Neaman & staff!"
Heather, Actual Patient*
---
"I was extremely satisfied with the professionalism of the staff. Dr. Neaman was/is an exceptional surgeon whom I would highly recommend to EVERYONE!!!!"
Nikki, Actual Patient*
---
"I went in today for a consultation and left with a Mommy Makeover scheduled for early December! I was beyond impressed! I am an RN with OR experience but had not seen the approach that Dr Neaman uses to do breast reduction, lifts and augments. I was blown away! Finally a technique that would give me the results that I really wanted. I am beyond excited for surgery. I can't wait to go shopping after surgery and see what size clothes I will be able to wear! I am so excited! I am so happy that I came to see Dr Neaman as a second opinion as a recommendation from one of my good friends"
Amy, Actual Patient*
---
"Dr. Neaman saved my left hand after an auto accident. His excellence and confidence helped me from the first time I met him in the Emergency Room, through 3 subsequent surgeries. I feel so lucky that he was the doctor who came to the ER that night. I recommend him to anyone who needs plastic surgery. Also, the staff in his office are very caring, reassuring and kind. My hand is doing great, and it is all because of the brilliant Dr. Neaman."
Cynthia, Actual Patient*
---
"Dr. Neaman and his staff are very nice and professional, I couldn't have asked for a better experience! I would recommend him to anyone! They all make you feel very comfortable and he is very skilled at what he does! I couldn't be happier with my experience."
Anonymous, Actual Patient*
---
"Dr. Neaman was amazing. He made sure I was aware of all my options – invasive and non-invasive. He thoroughly explained post-op complications, as well as made sure I understood what the scarring would look like. He had a great list of recommendations for after surgery from a patient who went through the surgery. He explained the different combinations of surgeries, as I needed several areas worked on. He also worked with me to make sure that I knew how long it would be before I could have another surgery, and was very realistic in the recovery education."
Sheamomma4, Actual Patient*
---
"I was and continue to be very satisfied with Dr. Neaman. My recovery is exactly what I planned. I do not rate medical professionals lightly being in the field myself, therefore myself giving him the highest rating is an enormous compliment. Thank you!"
Anonymous, Actual Patient*
---
"Dr. Neaman is an incredible doctor. From consultation through post op care. He was SO informative during my initial consultation and it felt like he knew exactly what I wanted. He was professional, kind and had the best way of making what could be an awkward and uncomfortable visit into a very relaxed and respected experience. Absolutely incredible surgery staff and nurses."
Anonymous, Actual Patient*
---
"Some of the best work I've ever seen. Dr Neaman is professional and has some of the most steady hands. I would recommend him to anyone who wants the best."
Brad, Actual Patient*
---
"Welcoming staff!! Walked in for my appointment. Received a tour of his beautiful office. Very welcoming and classy… Tana was knowledgeable and thorough with my laser treatment today. I would highly recommend Dr. Neaman, his staff and this office for your aesthetic procedure and potential plastic surgery."
Tammie Lee, Actual Patient*
---
"If you want the easiest, most comfortable recovery from Carpal Tunnel Release surgery, go see Dr Neaman! He is the best. Took great care of me, listened to all my concerns and did a terrific job! THANK YOU!"
Renae, Actual Patient*