Posted on 15 Dec 2016
If you are tired of two turkey necks showing up on a holiday, then why not try to Kybella yours away? How long have you looked in the mirror and 2 chins were staring back at you? You may have tried dieting one of those chins away, but rarely does that work. Double chins can be hereditary and extremely hard to rid yourself of. Most people just sort of resign themselves to the fact that, the extra chin isn't going anywhere.
Well, thanks to Kybella, a new non-surgical option for dissolving fat, that double chin can become a distant memory.
What Is Kybella?
Kybella is the first injectable that effectively reduces submental fat. The double chin has always been an incredibly difficult area to target and eliminate. This treatment is designed with adults in mind, who have moderate to severe fat below the chin. Kybella, when properly injected into the submental area, destroys the fat cells and then helps the body to absorb the fats. It is identical to the deoxycholic acid that is produced in the body that helps absorb fat. It is a cytolytic drug, which destroys fat cells.
What To Expect With Kybella
This is not a "one and done" treatment. Most people actually require 2-3 treatments spaced between 6 to 8 weeks apart. Results will begin to show after 2 to 3 months and improvement will continue for up to six months.
After Kybella, the under chin will be greatly reduced and the result will be a younger looking, sleeker and firmer neck area.
Kybella will:
Eliminate a double chin
Create a more defined jaw
Remove excess fat in the neck area
Are Kybella Treatments Painful?
Prior to the series of injections in the central neck, below the chin, topical numbing cream will be applied to reduce any discomfort. The treatments are easily performed in the office, and although not pain-free, the procedure is relatively easy.
Should I Expect Side Effects?
You may experience a few temporary side effects, such as bruising and tenderness in the injection area. It is also possible to have some numbness and residual swelling for a few weeks after the treatment.
We take pride in the fact that our staff is highly trained on how to safely and effectively administer Kybella. This procedure should only be performed by nurses and physicians who are well versed on techniques and appropriate indications.
Talk with Neaman MediSpa About Kybella
If you are ready to rid yourself of your double chin with Kybella, give us a call for your personal consultation. As with all medical day spa treatments, we offer complimentary appointments to talk about options and happy to schedule by contacting Neaman MediSpa or calling 844-338-5445.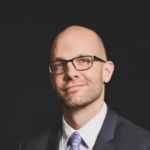 Dr. Neaman is a board-certified plastic surgeon that specializes in surgical body contouring. He prides himself on being on the cutting edge of plastic surgery. He takes an informative approach to each consultation, and through open dialogue and communication, he helps his patients decide on a treatment plan that meets their needs.