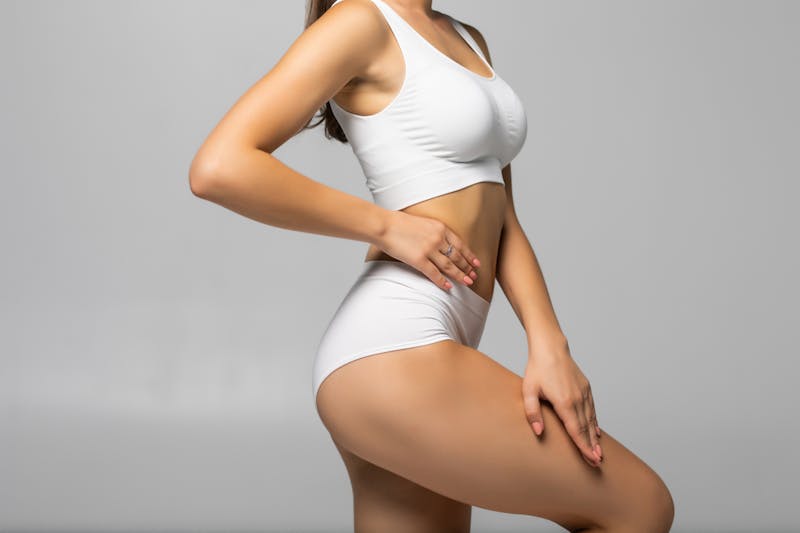 What is cellulite?
Cellulite is the dimpling that happens when fat pushes up against connective tissue under the skin. It affects between 80-90% of women and a small percentage of men, specifically those who have smaller amounts of male hormones. Cellulite in men can also be a result of prostate cancer medication. The occurrence of cellulite is determined by lifestyle or genetics and affects the stomach, thighs, upper arms, or butt. Weight does not play a role in making someone more prone to cellulite, however.
Is cellulite treatable?
It is noteworthy that cellulite is a natural occurrence, not a medical condition that needs treatment. Most people seek treatment for aesthetic purposes – to feel better about how they look. Cellulite reduction methods include topical creams, surgery, laser treatment, exercise, and dermal fillers. And thanks to recent advances in cosmetic science, today there is also QWO, an FDA-approved injectable that helps combat cellulite in the buttocks.
What is QWO?
QWO is a safe, effective injectable for ridding the body of stubborn cellulite in the rear end. The first of its kind, QWO comes with minimal discomfort and no downtime, so patients can return to work or school immediately after their sessions. It is formulated with an enzyme called collagenase that targets types 1 and 3 collagen, the type found in the fibrous septae bands that lie beneath dimpled skin. By dissolving these fibers, QWO releases the tightness that traps fat and leads to a bumpy skin texture.
What are the benefits of QWO?
Non-surgical and non-invasive

No discomfort or downtime

Quick treatment time

Reduces stubborn pockets of cellulite

Sculpts, slims, and reshapes the lower body

Enhances self-confidence

Increases wardrobe options
Who is a good candidate for QWO?
Patients of all ethnicities, backgrounds, and skin colors qualify for QWO injections. Anyone who is struggling with stubborn cellulite in the buttocks will benefit from QWO's quick treatment time and fabulous results.
What is the procedure like?
QWO takes just minutes to inject, and most patients find it less painful than a BOTOX injection. Your provider will mark the treatment spots with a surgical pen and strategically administer your QWO injections. The collagenase then gets to work on shrinking your cellulite while you return to enjoying your day. The whole treatment process takes about a half-hour.
What happens afterward?
As with any cosmetic injections, QWO patients may experience minor swelling, redness, and tenderness at the treatment sites. These side effects rarely last long, however.
When will I see the results?
Most clients will see improvement in their skin within about 21 days. For comprehensive improvement, QWO treatment can be repeated 3 times, with sessions scheduled about 3-4 weeks apart. Many report that their QWO results are sustainable and long-lasting.
What's next?
If you are interested in learning more about QWO and finding out if it is a good fit for you, please contact Neaman Medi Spa today to schedule an appointment with one of our licensed and experienced nurse injectors. QWO treatments are only offered by a hand-selected, exclusive group of medi spas in the Pacific Northwest, of which Neaman Medi Spa is one.