Posted on 20 Mar 2015
There are various ways to do a tummy tuck with the most common resulting in a low-lying scar stretching from hip to hip. There are various techniques that surgeons may use to ensure that you scar lies low across your abdomen and within the bikini line. During the healing process, the scar may migrate up slightly, however, intra-operative incision placement attempts to account for this.
It is important that when you go for a preoperative appointment, with your plastic surgeon that you bring with you a pair of your favorite bikini bottoms to ensure that the scar will be covered. It is vitally important that you discuss any concerns with your plastic surgeon and ask to see some of their before and after pictures.
CONTACT NEAMAN PLASTIC SURGERY
Dr. Keith Neaman is a board certified plastic surgeon working with patients in Portland, Salem and Eugene Oregon areas. Specializing in tummy tucks, breast augmentation, and medical day spa services, Contact Dr. Neaman today for a consultation by calling 844-338-5445.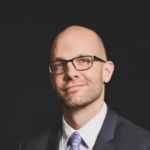 Dr. Neaman is a board-certified plastic surgeon that specializes in surgical body contouring. He prides himself on being on the cutting edge of plastic surgery. He takes an informative approach to each consultation, and through open dialogue and communication, he helps his patients decide on a treatment plan that meets their needs.