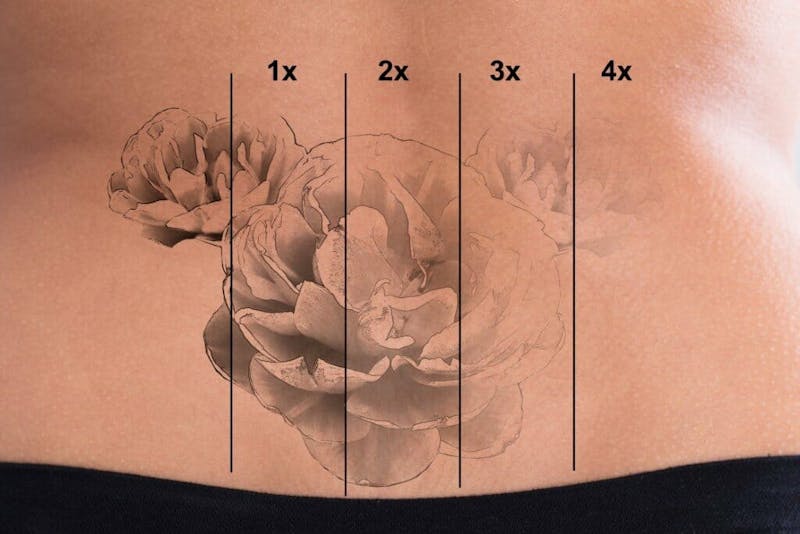 Knowing how many treatments you may need to remove your tattoos is a question we get a lot from patients. You may wish to have a tattoo removed before a big event such as a wedding. It is important for you to know that in some instances, it takes as long as a year for the ink in your skin to be completely eliminated. Having the right expectations set in the beginning will make the tattoo removal process a satisfying experience.
If you do the treatments too close together, you can cause permanent damage to your skin because you are not allowing your body the time it needs to completely remove the ink and heal from the procedure. For the best results, you should wait approximately three months between each treatment, and possibly longer if you have a naturally darker complexion.
When it comes to the tattoo removal process, the length of a tattoo removal treatment can vary widely. Most people will probably need between five and eight treatments to see results. However, other people may need 15 treatments if the tattoos are layered or if any significant scarring has occurred.
The Kirby-Desai scale is a good tool for estimating the approximate number of treatments a tattoo will need in order to be completely removed. This scale takes into account factors such as where the location of the tattoo is on the body, the amount of ink used in the tattoo, tattoo layering, and a few other factors as well. Candidates who are physically fit and have strong immune systems tend to see quicker results than people with health issues. After a tattoo removal treatment, patients should be encouraged to drink plenty of water and massage the area once it has healed.
Does Any Scarring Stay?
Any scarring that remains after the tattoo removal treatment is usually a leftover from the original tattoo artist. When laser protocols are properly followed, it is extremely uncommon for a patient to experience scarring afterwards. During the initial assessment, your tattoo artist will touch the tattoo and let you know if there is any scarring present. If the tattoo artist finds pre-existing scarring, they will jot it down in your records and inform you that the tattoo removal procedure will not get rid of the scar tissue; it will only get rid of the ink. When a Q-switched laser treats the skin, it can break down the tattoo pigmentation in both normal skin and scar tissue. Thus, if your tattoo artist finds any scarring, they will most likely use this specific laser treatment.
Are There Any Side Effects for Tattoo Removal?
All side effects for a tattoo removal procedure should be discussed between you and your tattoo artist before the treatment begins. However, one side effect that is common after the tattoo removal procedure is blistering or the formation of scabs. This side effect is a normal part of healing from the tattoo removal procedure. However, any scabs or scars should not be picked at.
FOR MORE INFORMATION, SCHEDULE A CONSULTATION TODAY!
A professional tattoo removal consultation by one of our Aestheticians is a complimentary service we provide for all potential patients. Virtual consultations are also available. To learn more, call us at 855-810-8425 or visit our Contact Us Page.