Posted on 07 Jan 2020
Breast augmentation surgery can do wonders for a woman's self confidence. However, as with any other surgical procedure, there are a number of issues that you'll need to consider to help you decide whether breast augmentation is right for you. For many women, some of the most important questions concerns scarring—specifically, how extensive the  scarring will be, where the scars will be located and how visible they will be following the procedure. In order to answer these questions and give you piece of mind prior to your procedure, this guide will tell you everything you need to know about breast augmentation scars.
What Type of Scarring Can I Expect?
The first thing you need to know is that breast augmentation is a surgical procedure, and as with most any type of surgery, some amount of scarring is inevitable. Nonetheless, closely following your surgeon's post-surgery instructions can go a long way towards lessening the scarring and making the scars much less visible. Moreover, there are additional steps you can also take to help minimize the appearance of the scars. These can include staying out of the sun and using sunscreen until fully healed, making sure to eat a healthy diet and drinking plenty of water in the weeks after your procedure and not smoking for a period of several weeks prior to and after your procedure.
The Location of Breast Augmentation Scars
Although there will definitely be some amount of scarring as a result of your procedure, breast augmentation surgeries are designed in such a way as to help make sure that the scars are mostly hidden. However, the actual location of the scars will depend on the specific incision technique that the surgeon uses to place the implants inside the breast pocket.
Currently, there are three primary incision techniques used in the vast majority of breast augmentation procedures. The most common technique is known as an inframammary procedure, which involves placing one small incision underneath the curve of each breast. As these incisions follow the natural curve of the breast, the resulting scars are mostly hidden underneath the breast itself. However, the size of your natural breasts and the size of your implants can affect just how visible or hidden these scars will be. Still, the fact that these scars will be located directly underneath the breast means that they can easily be covered up by a bra or bikini.
The periareloar incision is another common type of procedure, and one that has the potential to further lessen the visibility of breast augmentation scars. In this procedure, the surgeon makes a small semi-circular incision along the lower half of each areola. This means that the scars will be located directly on the areolas, which helps to make them even more hidden.
The third type of technique is known as the transaxillary incision. In this procedure, the incisions are placed inside each armpit instead of on or underneath the breast. As a result, this procedure leaves no visible scarring on the breast itself. However, this procedure is generally much less common than the other two as it can be more difficult to ensure that the implants are placed exactly where they should be.
The truth is that all types of breast augmentation surgery will leave behind some scarring. Nonetheless, the fact that these scars will be mostly or completely hidden means that scarring really isn't something you need to worry about. Still, the specific location and overall visibility of the scars will depend on which type of incision is used. Therefore, it is important to discuss this in detail with your surgeon to ensure that the chosen procedure is right for you.
For More Information, Schedule a Personalized Consultation Today!
A personalized consultation by one of our board-certified plastic surgeons is a service we provide for all potential patients.  To learn more, call us at 844-338-5445 or visit our Contact Us Page.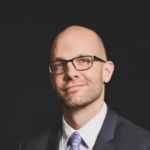 Dr. Neaman is a board-certified plastic surgeon that specializes in surgical body contouring. He prides himself on being on the cutting edge of plastic surgery. He takes an informative approach to each consultation, and through open dialogue and communication, he helps his patients decide on a treatment plan that meets their needs.