Posted on 03 Nov 2015
This comes up all the time and I often have patients coming in saying, "I need a high profile implant for projection", or ""I need a lower profile implant because I want narrow cleavage". While the two implants have similar overall volumes, with about the same number of cc's, they will have different shapes.
The high profile one will be somewhat narrower from side to side, but rounder. It will give you more fullness and roundness in the upper part of the breast, but possibly less cleavage and more of a gap. It will tend to look more like "the push up bra" look than the medium profile.
The medium profile implant will tend to be a little wider, but give less fullness on the top. In our practice, this shape is a little more popular, but it's really a matter of patient preference.
Measure your breast width, that is, where your breast should begin, next to your sternum, to where it ends, on the side. Measure on your chest, so you get the pure width of the base here. Narrow women you should get a 11 here, then 12-13 for medium, then 13.5 and up for a wider chest. Your implant should be about that wide or a little bit narrower. Implants come in a grid of widths and sizes, so if you pick your size, then you pick your width, that gives you the right implant, for you!
So be smart, and don't get hung up on the labels. Both can look nice, when they are proportional to your frame, and placed by a skilled surgeon.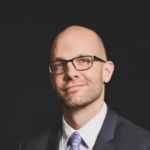 Dr. Neaman is a board-certified plastic surgeon that specializes in surgical body contouring. He prides himself on being on the cutting edge of plastic surgery. He takes an informative approach to each consultation, and through open dialogue and communication, he helps his patients decide on a treatment plan that meets their needs.