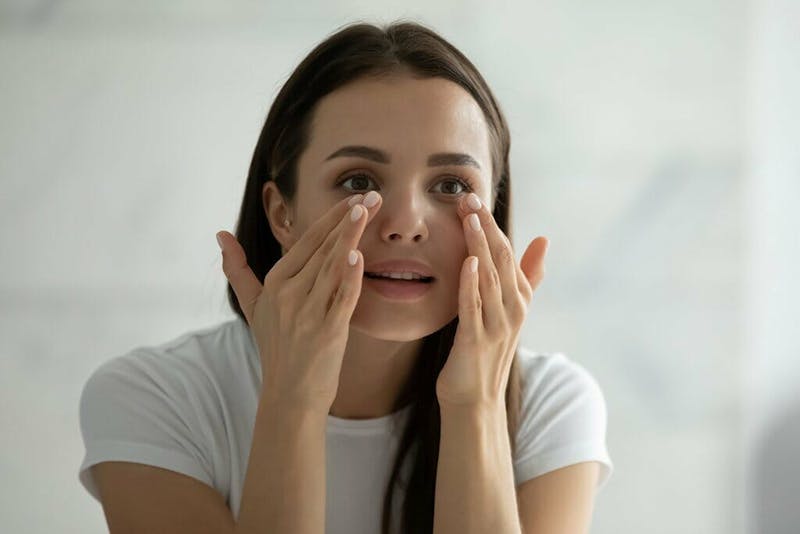 5 Easy Remedies for Under-Eye Bags
16 Mar 2021

5 Easy Remedies for Under-Eye Bags

Under-eye bags, also notoriously known as dark circles, are common cosmetic blemishes that plague a lot of people. Fortunately, it's as easy to rectify under-eye bags as it is to get them from those late-night TV show binges. With these five methods, you can reduce the bags under your eyes and get people to focus more on those dashing eyes.
Wipe Under Eyes With Cool Compress
Find 10-15 minutes in the day to apply a cool compress under your eyes. Wet a clean face towel with cold water, and apply the towel to the affected area, repeatedly wiping underneath the eyes in a curved motion using mild pressure. Cooling the skin reduces inflammation and swelling by restricting blood flow. Aside from a face towel, you can also use an ice pack, frozen bag of vegetables, or the classic chilled cucumber slices.
Examine the Root Cause
The root cause of under-eye bags can be different from one person to the next. Some common reasons include thinning of the skin underneath or above the eyes as a natural result of aging, allergic response, excess consumption of high-sodium foods, and poor tear duct drainage. By understanding the root cause, you can better address the problem with the most appropriate solution. For instance, if it is diet-related, you can simply cut back on salty foods, such as chips and sauces.
Drink Plenty of Water
Water constitutes 60% of a person's body weight. If you are suffering from dehydration, one of the ways the body will manifest it is through under-eye bags. Increasing water intake should help curb the visual effects. How much water is enough per day depends on several factors, including gender, weight, and activity level. On average, however, men are advised 13 cups of fluids per day while women are advised 9 cups of fluids per day. If you find it difficult to drink this much water per day, you can also drink herbal decaffeinated tea, which counts towards your required daily fluid intake.
Consider Surgical Options
Eyelid surgery, also medically known as blepharoplasty, is also an option for quick correction of under-eye bags. During eyelid surgery, surgeons at Neaman Plastic Surgery will carefully make an incision either in the upper lid or inside the lower lid and then carefully remove the excess fat. The incision is then closed up with microscopic dissolving stitches. Aside from repairing under-eye bags, the procedure is also commonly performed to correct baggy or puffy upper lids and to remove excess skin on either lower or upper lids.
To learn more about under-eye surgery at Neaman Plastic Surgery, also known as a Blepharoplasty, click here.
Get Enough Rest
How much sleep you get can indirectly contribute to dark circles. While there isn't sufficient study that connects lack of sleep and under-eye bags, getting inadequate sleep can affect your skin's complexion, making it look paler. This, in contrast with the darker skin underneath your eyes, may illuminate the imperfection even further.
Eye bags are a minor issue that should not bother you. With the solutions listed above, you can quickly remedy the problem without losing any sleep.
A professional Under-Eye Skin analysis and consultation by one of our Licensed Advanced Aestheticians is a service we provide for all potential patients. Virtual consultations are also available. To learn more, call us at 855-810-8425 or visit our Contact Us Page.